At BrightGuide Financial, our team of professionals helps identify your needs while accounting for your dreams. Then, we get to work to build a plan that fits your unique lifestyle. While we offer our professional guidance, you're in control every step of the way.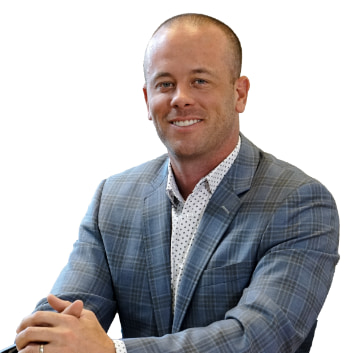 Ryan E. Loynd, AIF®
Founder, CEO and Wealth Advisor
With over a decade of experience developing custom, comprehensive financial strategies, Ryan is dedicated to helping clients make informed decisions that leave them empowered to pursue their dreams and goals.
Ryan entered the financial services industry in 2010, working for a well-respected Fortune 500 firm. He founded BrightGuide Financial in 2019 to help change lives and attitudes about financial planning and guide others toward comfortable, confident retirements.
"I have a passion for educating and helping people understand the truth about financial strategies," Ryan says. "There are many misunderstandings about money out there. My objective is to truly change the way people think about approaching accumulation and distribution planning."
With considerable experience in retirement income planning, insurance, alternative investments, and the stock market, Ryan brings practical, well-rounded insights to his clients. He has passed the Series 65 securities exam and holds the life and health insurance license as well.
Most recently, Ryan earned the Accredited Investment Fiduciary (AIF®) designation, which is a credential held by less than 5% of financial advisors. Ryan was recognized in 2021 by the Global Conference of Insurance and Finance as one of the Top 100 Global Leaders in Finance, and has been featured by ABC, NBC and local news outlets.
A resident of Gilbert, Arizona, Ryan and his wife, Kristen, are blessed with three beautiful children: Elsie, Cora and Ethan. They also are proud owners of two dogs, a Golden Retriever named Stella and a Cavapoo named Max. When he isn't serving clients, Ryan enjoys golf, working out, dining at the area's best restaurants, reading and serving his community.
The Accredited Investment Fiduciary (AIF®) Designation demonstrates the individual has met educational standards to carry out a fiduciary standard of care and acting in a client's best interest. Global Conference of Insurance and Finance is an international finance event. Qualifying criteria for Top 100 Global Leaders in Finance Award include attaining specified levels of commissions earned, premium paid or income earned on the sale of insurance and other financial products. It is not indicative of the individual's knowledge, experience, or past or future performance. The GCIF registration requires the payment of annual dues. GCIF is an independent marketing organization. Any media logos and/or trademarks contained herein are the property of their respective owners and no endorsement by those owners of Ryan Loynd or Bright Guide Financial is stated or implied. ABC and NBC appearances are a paid placement.